Top Reasons why Byculla Should be Your Choice to Buy a Home

06 September, 2021

4 mins read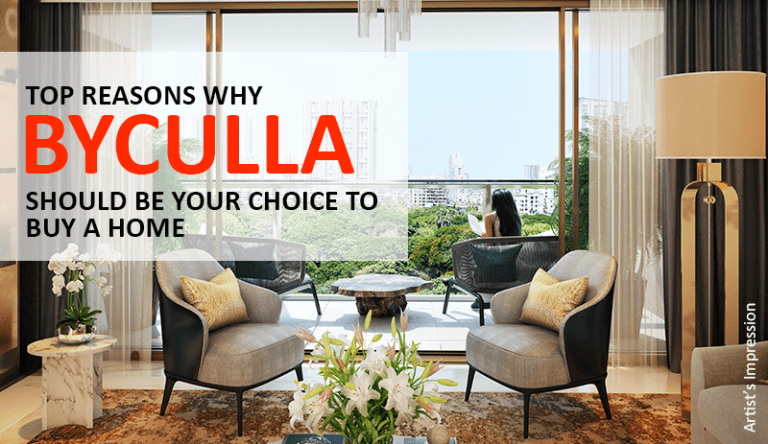 Once flocked by old Bombay's mills, mill owners, and mill workers, Byculla, a bustling township is becoming a hotspot for properties in south Mumbai. Its close connectivity to upscale south Mumbai areas, high-end leisure spots, and commercial workspaces make it ideal for you to buy home in Byculla.
After decades, Byculla is finding its place on the map of luxury space and property in South Mumbai and is seeing massive investment from reputed developers, builders and construction giants. If you are on the fence about buying a home in Byculla, here are some persuasive reasons why you should reconsider the area.
Heritage and Cultural Affluence
In the olden days, Byculla was a flourishing hub of commercial activity. It had several mills and business families that eventually moved on due to the shutting down of Byculla's central source of economic success – its mills. But all that shutting down led to a lot of creation of space and blessed Byculla with abundant greenery.
Byculla is home to some of the city's most revered and classic heritage monuments such as the Jijamata Udyan (Byculla Zoo and Botanical Garden) and the Bhau Daji Lad Museum. The old-school British charm still lives on in the homes and streets of the neighbourhood, along with the confluence of all religious faiths, with there being several religious places in the area, including the Magen David Synagogue, the Hasnabad Mausoleum, Gloria Church, and Mankeshwar Temple.
Proximity to significant commercial zones
Byculla is well connected several main office complexes and districts. Being located equidistant from the Eastern and Western highways and at an ideal locale between south Mumbai, western suburbs, and the harbour line makes road travel a breeze from Byculla. Even train travel from here is easy thanks to the intersection of the central and harbour railway lines.
From swanky commercial complexes like Kamala Mills, Peninsula and Marathon Futurex to reputed hospitals and institutions like Jaslok, Saifi, J.J, St. Xavier's, Jaihind, and Villa Theresa, all the essential social infrastructure is just a short drive away. With the iconic Bandra Kurla Complex (BKC) being a mere fifteen minutes away via train or taxi, Byculla has easy access to some of the city's most significant commercial centres.
Infrastructure development
With its roots deep in Mumbai's history, Byculla has always been a cultural and commercial hub. However, with the recent developments in the infrastructure of the area, it is taking giant and quick strides towards becoming one of the city's most strategically significant and coveted neighbourhoods.
In the wake of the opening of the Eastern Freeway Road as well as the development of Phase II of the Mumbai Monorail, the connectivity of the region has grown by leaps and bounds. Furthermore, the Line 3 of the Mumbai Metro is also set to enhance the accessibility of the area.
A view to look forward to
The view of the Mumbai harbour and the lush botanical gardens of the 60-acre Jijamata Udyan available from most of the premium residences and apartment complexes in Byculla are also viable attractions for potential home buyers. Byculla also retains its historic vibe through several museums, daily bazaars, and Parsi and Irani cafes.
Entertainment and nightlife
Mumbaikars are well known for their love of everything buzz-y and social. Being close to some of the hottest social hubs in town, like Lower Parel, Worli, Mahalaxmi, Fort, Cuffe Parade, Nariman Point, and other posh districts, Byculla hosts some of the best cafes, pubs, and tourist hangouts in the city. Many iconic hotels, high-end malls, and lush green spaces are also in development in and around the neighbourhood.
Wider horizons in store for Byculla
While most areas of Mumbai remain extremely expensive, Byculla is still on the cusp of residential transformation. Byculla is seeing incredible development but is yet to gain supreme popularity. This fact makes its property valuations comparatively lower than the rest of the properties in South Mumbai.
More and more builders and city municipal corporations have already started moving into the Byculla real estate market. Some recent developments in the area include ongoing projects like the trans-harbour road linking and Line 3 of the Mumbai Metro.
Many home buyers and investors are also becoming aware of Byculla's promise of a premium lifestyle, so Byculla is witnessing a rapid influx. Despite the affordability, spaces in Byculla come with supreme amenities like clubhouses, gyms, swimming pools, and spacious, landscaped gardens – so it is a win-win!
Conclusion
With various infrastructure and city projects ongoing, Byculla is undergoing massive growth. Ultimately, Byculla's residential prices might hit the sky too.
So, if you have your sights set on finding a property in South Mumbai, check out Piramal Aranya – the ultra-luxurious residential apartments from Piramal Realty that overlooks the panoramic western harbour and the verdant 60-acre botanical gardens. Book a visit today!