Health Benefits of Green Space in and Around Your House

25 April, 2022

4 mins read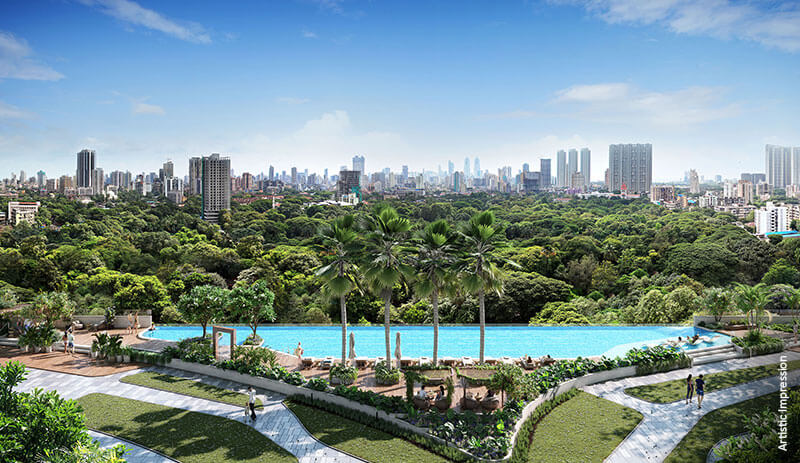 Life in a metropolitan city has its own perks – the ease of transport, better professional opportunities, and ample entertainment options. However, the real luxury that the city lacks is open and green spaces.
But when looking for a house in South Mumbai, Piramal Aranya is one name that can offer the comfort of green spaces outside along with ultra-luxurious living spaces inside. The premium residences ensure that your home welcomes natural daylight and lots of fresh air inside, thus syncing perfectly with nature.
The reason homes with green surroundings are so important is because of the numerous health values associated with them. Therefore, let's take a look at a few significant health benefits of staying in a home surrounded by greenery.
Clean air for healthier lungs
With the rising pollution levels, a breath of fresh air amid this maximum city is truly a luxury very few can afford. With your home at Piramal Aranya, not only you can enjoy the beautiful view of the lush Rani Baug but also benefit from the ample supply of fresh air that is facilitated by the superior ventilation in the residences.
Green spaces for better mental health
The verdant view and the cool breeze bring comfort to a tired mind. It may be a task finding a house in South Mumbai that offers a soothing touch of nature in the comfort of your home. The smart design of Piramal Aranya's residences is ideal for allowing plenty of natural light and a view of the greenery through full-height windows. Additionally, the amenities at the property truly encapsulates the essence of the surrounding lush greenery, making it perfect for spending a fruitful quality time with oneself.
With a home at Piramal Aranya, you can also treat your eyes to the serene view of the Eastern Harbour, be it in the mellow light of the sunrise or in the pleasant hues of the sunset!
Improved physical health in green spaces
The lifestyle amenities at Piramal Aranya, such as the jogging track, cricket field, fitness centre, active yoga lawn, and more can promote a healthy lifestyle to the residents. But what further enhances the health benefits of these areas is that they are all surrounded by natural greenery. The pleasant views and the fresh air in such open spaces boost physical health and wellness when compared to exercising in poorly ventilated areas.
Natural greenery for enhanced productivity
A long day at work can drain you out and thus, it should be followed by a rejuvenating respite. And though sleep is very important for your mental and physical well-being, only getting adequate rest is just not enough. It is essential that you allow yourself to enjoy nature's beauty, the view of green spaces around your home, and get some fresh air to really refresh your mind and body.
With Piramal Aranya strategically located adjacent to the beautiful and lush Rani Baug, you can treat yourself to the fascinating views of the magnificent greenery each day right from the comfort of your home, whether you're working or just relaxing!
Conclusion
In addition to the above benefits, green spaces are also essential for absorbing dust particles in the air, which lead to respiratory problems in people across all age groups. But with the abundance of greenery surrounding your home at Piramal Aranya, you can think about healthier life for yourself and your loved ones.
A home at Piramal Aranya epitomises the style and substance of ultra-luxurious living and ensures comfort and well-being for its residents. With a magnificent blend of inspiring modern architecture and views of the verdant botanical gardens of Rani Baug, Piramal Aranya truly is a premium sky-high sanctuary for its residents. Moreover, the status of Rani Baug being a heritage site means you can enjoy a lifetime of unobstructed views of the greenery.
Disclaimer - This article is based on the information publicly available for general use. We do not claim any responsibility regarding the genuineness of the same. The information provided herein does not, and is not intended to, constitute legal advice; instead, it is for general informational purposes only. We expressly disclaim any liability, which may arise due to any decision taken by any person/s basis the article hereof. Readers should obtain separate advice with respect to any particular information provided herein.