What is the Refuge Area in Buildings? Significance, Rules and More.

05 July, 2023

4 mins read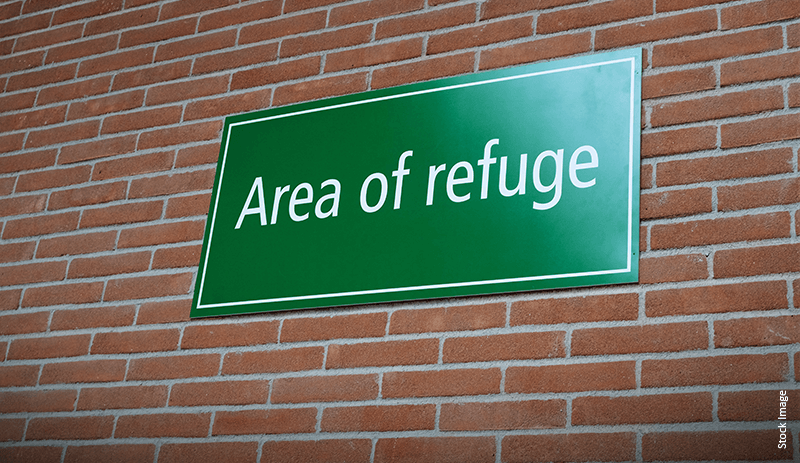 When a person thinks about emergencies, one is likely to imagine fires, hurricanes, or earthquakes. But any event that may cause a person to immediately evacuate a building can be called out as an emergency. As per building and construction regulations, high-rise buildings must have clearly demarcated refuge areas.
Refuge Area Meaning
Many homebuyers often hear this term and wonder - what is a refuge area? As implied by the name, refuge or refugee areas are designated spaces within commercial or residential buildings where individuals can seek shelter during emergencies. For example, a refuge area is also a space where people can seek refuge in the event of a fire. This area may also colloquially be referred to as refugee flats. Buildings classified must adhere to many fire safety norms for high-rise buildings in India. The terrace of the building is also referred to as a refuge floor.
What is the Significance of a Refuge Area?
Refuge areas provide a safe space for residents in a building to seek shelter until help arrives.
Fire refuge areas are critical spaces when evacuation or immediate help is not readily available due to the severity of the emergency.
Residents can take shelter in refuge areas until it is safe to leave.
The structural age of a building can increase the chances of a disaster, making refuge areas even more important.
Selling refuge zones to locals for personal use may prompt authorities to tighten building regulations. Municipal authorities usually decide if provisions for refuge areas in buildings are included in the standard map developers offer or if they have been removed. Hence, authorised officials must thoroughly analyse high-rise buildings before issuing a completion certificate. But how to identify a refuge area? Generally, refuge floors of residential or commercial buildings bear refuge area signage. In the hour of distress, one can look for the area of refuge signage and take shelter in it.
What are the Rules and Regulations Related to the Refuge Area?
The government of India has made it necessary for every real estate developer to obey and follow the bylaws of a building to ensure smooth adherence to a general safety code.
According to the National Building Code (NBC), every tall building or skyscraper must have a refuge area on every seventh floor.
As mentioned above, the first refuge area can be present after the first 24 m (in height) or on every seventh floor.
A clear passage must be built, leading individuals to the refuge area. This passage must be luminous, i.e., it must be well-lit.
The refugee area must not be used publicly. The area is only to be used by the people in an emergency.
The refugee space must not be in an enclosed area. No high walls are allowed around the refuge area. However, one can build a railing or a medium-height fence/wall.
In any emergency, rescue services like the fire brigade ladder must be able to access the refugee area without any severe effort/obstruction.
The residents of the building, or any designated authority, must ensure that the door to the refugee area is always kept open. The door of the refugee area is prohibited from being locked.
The entrance to a refuge area must display a refugee area sign using bright, glowing paint.
The refuge area must not be used for any other purpose, such as events, weddings, functions, etc., whether permanently or temporarily.
Refuge Area Calculation: Explained in Detail
When constructing the refugee area, engineers or designers must calculate the maximum space capacity. This figure can be finalised by taking into consideration the occupancy of the building and the available space within the refuge area. The second step is calculating how many residents/individuals can safely move out of the building during an emergency. Once the capacity of the space is evaluated, engineers must select the relevant materials for the construction of the refugee area. These materials must withstand smoke, fire, and heat for longer, allowing safe evacuation. The final step in building a refuge area is to map out a plan for its use in an emergency. This plan must include instructions on safely entering the refugee space and what to do inside.
Conclusion
A refugee area or refuge area is a critical space that all high rises must offer. It is a pocket of safety the residents of the building may need in the hour of distress. Homebuyers can physically visit the property to enquire about such safety protocols just like they do to ensure the amenities. For those who want to rest assured of the safety layering a luxurious living, may take an E-tour of Piramal Aranya It offers opulent residential high rises in the heart of Mumbai.
Disclaimer- This article is based on the information publicly available for general use as well as reference links mentioned herein. We do not claim any responsibility regarding the genuineness of the same. The information provided herein does not, and is not intended to, constitute legal advice; instead, it is for general informational purposes only. We expressly disclaim /disown any liability, which may arise due to any decision taken by any person/s basis the article hereof. Readers should obtain separate advice with respect to any particular information provided herein.
Sources :