Why is the Festive Season the Best Time to Invest in Real Estate?

10 November, 2023

4 mins read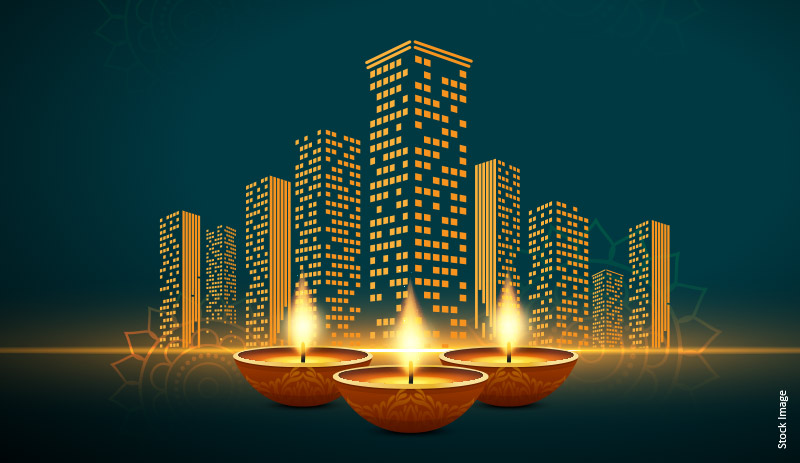 The festive season in India begins with Ganesh Chaturthi in August-September and extends to Diwali and Bhai Dooj in October-November. It is a time when people across the country revel in the joy and celebrate festivals with great enthusiasm.
The festive season in India also presents a prime opportunity for making big-ticket purchases, such as precious metals, cars, jewellery, electronic appliances, and even real estate properties. But what can be the rationale behind this? This article explores the reasons that make the festive season in India the best time to invest in real estate.
Keep reading.
Top Reasons to Invest in Real Estate During the Festive Season
1.It is Considered the Most Auspicious Time of the Year
The three days between Dhanteras and Diwali are considered an extremely auspicious time among Hindus to acquire wealthy possessions, such as gold and real estate. People believe that buying a house during this period can bring good fortunes and wealth and also protect the inhabitants from bad omens and the chances of uncertain deaths.
According to ancient Hindu mythology, this was when the Goddess Dhanvatari, the Goddess of good health, and Goddess Laxmi, the Goddess of wealth and fortune, arose during Samudra Manthan (churning of the ocean).
Hence, they believe that if one indulges in real estate investing during Diwali, one can get excellent returns in the long run with the blessings of Goddess Laxmi. It makes this one of the top reasons for real estate investment during this period.
2. One Can Get Attractive Discounts and Offers
Another good reason to invest in real estate during the festive season is the abundance of attractive discounts and offers provided by builders and developers. To attract homebuyers and boost their sales, real estate developers often roll lucrative offers for Diwali, such as reduced property prices per square feet, waiver of stamp duty, free parking spaces, and even zero-cost furnishing.
Moreover, banks and other lending institutions also look to approve home loans during the festive season. They recognise the increased demand for real estate during this time and, hence, offer home loans with favourable lending terms, including lower interest rates, reduced processing fees, and extended repayment tenures.
One can avail of these festive offers to reduce their overall cost of real estate investment, thereby fetching better returns in the long run. To know about the latest Diwali offers, one can check the official websites of real estate developers and lending institutions.
3. Several New Projects are Launched During the Festive Season
Like investors, real estate developers consider the festive season an auspicious time to launch new projects. They also realise the fact that homebuyers are keen to buy new properties during this time of the year, and hence, they look forward to making the most out of it.
As a homebuyer, one can choose from the abundance of newly launched housing projects by choosing to buy a property during the festive season. One can select from a wide range of inventory as per their precise requirements. For example, one can choose between affordable housing, luxurious apartments, or commercial spaces.
Additionally, one can grab the best property in the project at competitive prices as the costs of the recently launched projects tend to be on the lower side, and there are multiple options available.
4. One Can Avail of Higher Tax Benefits and Government Incentives
The Government of India sometimes announces enhanced tax benefits and special incentives for homebuyers during the festive season. These benefits can range from subsidised home loan interest rates to increased tax deductions on home loan repayments. One can avail of these deductions over and above the regular deduction limits under the existing sections of the Income Tax Act of 1961.
As a wise investor, one can take advantage of these tax benefits and government incentives to maximise their returns from real estate investments . However, these incentives are conditional, and it is advisable to consult a tax professional to understand their exact scope at the time of making a real estate purchase.
To Conclude
The festive season in India is more than just a time for celebrations. It also offers an excellent opportunity for real estate investing. One can invest in real estate during this auspicious period to grab exclusive discounts on property prices, get home loans at reduced interest rates, and choose from a range of newly launched housing projects.
If one's planning to invest in real estate in Mumbai, one can consider buying a luxury apartment at Piramal Aranya. The contemporary housing project offers breathtaking views of the Arabian Sea amid the lush green Rani Baug. Nestled in the heart of South Mumbai, it offers premium 2,3 and 4-BHK apartments with a unique touch of natural beauty and modern architecture. Click here to take the virtual e-tour of the project.
Disclaimer- This article is based on the information publicly available for general use as well as reference links mentioned herein. We do not claim any responsibility regarding the genuineness of the same. The information provided herein does not, and is not intended to, constitute legal advice; instead, it is for general informational purposes only. We expressly disclaim /disown any liability, which may arise due to any decision taken by any person/s basis the article hereof. Readers should obtain separate advice with respect to any particular information provided herein.
Sources :