Advantages of Living on Lower Floor Apartments In High-Rise Buildings

11 August, 2023

4 mins read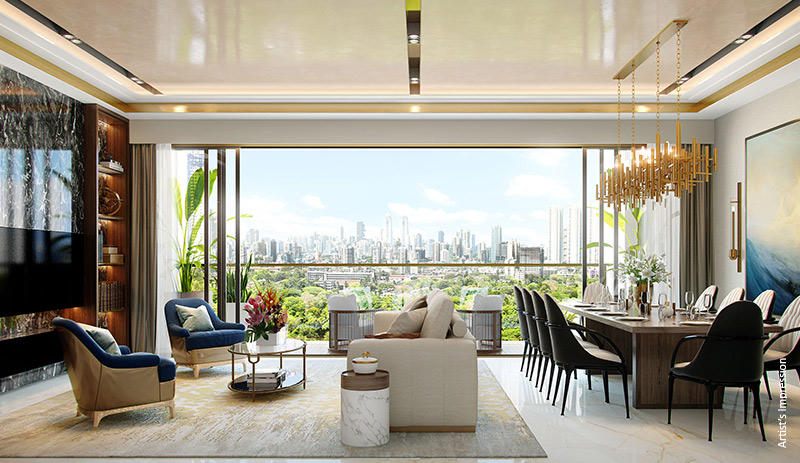 Choosing the right floor in a high-rise building can confuse many buyers because there are many things to consider. Some people want the top floors, while some prefer somewhere in the middle. But when looking for apartments, only a few people know how practical choosing the lower floor in any high-rise building can be. Particularly with regards to the high-rise buildings in Mumbai, there are several advantages of living in lower-floor apartments
Benefits of Living in Lower Floors High Rise Residential Buildings
Here are certain benefits of living in lower-floor apartments on high-rise towers, and here they are.
Ecofriendly

Lower-floor apartments are less exposed to harsh sunlight in the summer and are often closer to the tree line. Naturally, the temperature is well within the bearable range as compared to very high floors. One can argue that air conditioners can create a comfortable ambiance anywhere, but they can never replace the refreshment found in a gust of fresh air. For example, the lower-floor apartments in Piramal Aranya are closer to the Rani Baug botanical garden and Zoo. Its lower-floor apartments get a stunning view of the flora, which is a rare sight and a true luxury for city dwellers. Piramal Aranya also has 60 acres of Botanical Garden views which is a rare experience in the city. It also provides wellness living which enhances overall health. They can easily compete with the higher floors of this luxury residence that also offer a great city view .

Variety of Outdoor Space Options

There are many advantages to living in a lower-floor apartment with large green spaces or onsite parks, including easy access to the project's outdoor amenities. This way, pets, children, and friends can enjoy outdoor activities together. One can also have easy access to the amenities on the podium level like a swimming pool, podium, kids pool, fitness center, reading lounge, etc. if they live on lower floors. Lower-floor apartments offer a living that is closer to the community.

No Fear of Heights

If someone has acrophobia, or a fear of greater heights, most likely, higher-floor apartments are not on their wish list. An apartment on the lower floors would be a natural fit for those people.

Easy Evacuation

Indeed, no one wants to experience a disaster, but should one occur, everyone needs to evacuate the building soon. Since tenants who live on higher floors are not closer to exit points on the lower floor, they may have difficulty leaving the building. The lower floors of an apartment are the best to live on, for they offer the quickest way out to safety.
Floor Selection Factors on High-Rise Structures
Consider the below factors while selecting the floor on high-rise towers.
Accessibility and Privacy

Lower floors are particularly advantageous because they provide both privacy and accessibility. The numerous elevators in the high-rise towers make it easier to obtain access to apartments on lower floors. Still, they are also not low, so they offer some privacy from street noise and passersby.

Apartment Views

When it comes to apartment living, choosing a top floor may be the best choice for those who love to see the city from their living room. On the other hand, lower floors offer a good view of the lush greenery around the apartment and the swimming pool. It is like living on a lavish perpetual holiday for 365 days. They can also enjoy the apartment amenities and see their kids playing in the park from their living room.
In Conclusion
In luxury projects, practically all apartments have the same number of amenities, although choosing an apartment on the lower floor may result in additional benefits. It offers a living that is closer to the community. They can also easily access exclusive amenities on the podium level like, yoga lawn, and recreational grounds if they live on lower floors. For example, hosting poolside parties becomes very convenient, which is more like an exclusive perk for the homeowner. As an example, Piramal Aranya offers lower-floor premium apartments for homebuyers. These flats have a great pool view. These properties also face the Rani Baug botanical garden and Zoo — a big patch of greenery amidst the bustling city life. Living in these apartments can feel like sitting in the middle of the landscape. Contact us today to invest in a lower-floor apartment and enjoy a seven-star residence year-round! As during monsoon there are many attractive schemes and offers offered by the real estate developers.
Disclaimer- This article is based on the information publicly available for general use as well as reference links mentioned herein. We do not claim any responsibility regarding the genuineness of the same. The information provided herein does not, and is not intended to, constitute legal advice; instead, it is for general informational purposes only. We expressly disclaim /disown any liability, which may arise due to any decision taken by any person/s basis the article hereof. Readers should obtain separate advice with respect to any particular information provided herein.
Sources :