Mumbai Trans Harbour Link Project: Map, Construction Status, Impact on Real Estate & More

01 June, 2023

4 mins read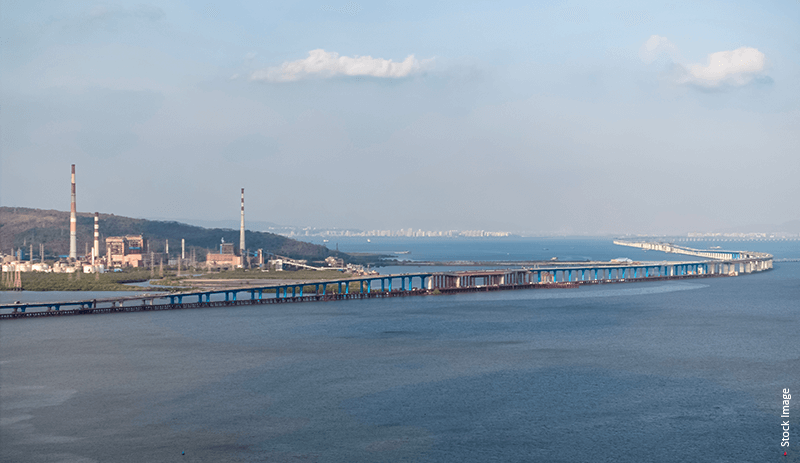 The island city of Mumbai is known for its robust public transport systems. The Mumbai Trans Harbour Link (MTHL) is another feather in the cap of this dream city. Also known as the Sewri Nhava Sheva Sea Link, the marvellous sea bridge is being built by the Mumbai Metropolitan Region Development Authority (MMRDA). With the growing population and urbanisation, the physical infrastructure in Mumbai will soon get a new upgrade with this 22 km long MTHL project. On completion, the link promises improved traffic conditions and smoother interstate and intercity travel. This sea-link route will also help numerous commuters to and from South Mumbai save time on their daily commute.
About Mumbai Trans Harbour Link (MTHL) Project
The Mumbai Trans Harbour Link Project (MTHL) is an under-construction infrastructural development to connect the main city of Mumbai with its satellite city Navi Mumbai via Sewri and Chirle. The MTHL Mumbai will facilitate faster development of Navi Mumbai and help reduce congestion. The mega project, initially planned in the 1990s, was revived in 2016, and the construction began in 2018. The Sewri Navi Mumbai Sea Link will help commuters reduce travel time between these two important locations and will also give access to a new route, reducing the pressure on existing routes.
Mumbai Trans Harbour Link (MTHL): Key Specifications
| Total project length | 21.8km |
| --- | --- |
| Bridge length | 18.2km |
| Total estimated cost | ₹17,843 crore |
| Expected completion date | September 2023 |
| Width | 30.1 m |
| Number of lanes | 6 (3+3 lane and 2 Emergency lanes) |
| Status | Under construction |
| Chief lender | Japan International Cooperation Agency (JICA) |
| Owned by | Mumbai Metropolitan Region Development Authority (MMRDA) |
| Maximum speed limit | 100 kmph |
| Toll plaza | Proposed main toll plaza close to Gawhan village (Navi Mumbai). Additionally, 6 more small toll plazas are planned at Shivaji Nagar Interchange. |
Mumbai Trans Harbour Link (MTHL): Importance and Advantages
The MTHL project is an important addition to Mumbai's existing infrastructural development and will also have a crucial impact on the real estate development in the surrounding areas. Some of the advantages of this project include the following:
Since the island city, especially the residential and commercial spots, are overcrowded, the sea-link project can result in better accessibility to basic amenities to the city's residents in other parts of the city such as Navi Mumbai. The project will open newer and well-connected avenues to reduce the current problem of congestion in South Mumbai.
The commutation or the time taken for travelling from Mumbai to Navi Mumbai currently is around 2 hours 20 mins. With this Sewri Navi Mumbai bridge, the time for travelling will be drastically reduced.
With increased connectivity, the bridge will help promote industrial and urban development, especially in Navi Mumbai and surrounding areas. These commercial areas are booming in terms of business and industrialisation that can help South Mumbai residents explore professional opportunities outside South Mumbai.
The 6-lane bridge will also offer better accessibility to the proposed Navi Mumbai International Airport (NMIA) as well as the Mumbai-Pune Expressway.
Mumbai Trans Harbour Link (MTHL): Project Status
When the project began, it was supposed to be built under the Public Private Partnership (PPP) model. However, the MMRDA later changed its model to Engineering, Procurement and Construction (EPC). As per the latest update as of August 2022, around 85% of the project's construction work has been completed. Its tentative completion is scheduled for September 2023.
Mumbai Trans Harbour Link (MTHL): Impact on Real Estate
The MTHL project shows high potential for property value appreciation in Navi Mumbai and surrounding areas. Navi Mumbai is already known for its planned townships, good accessibility to amenities like schools, colleges, hospitals, and excellent infrastructure. This can also open up more real-estate opportunities for residents looking for a second home or a rented space closer to their potential workplace. The completion of MTHL will provide better connectivity between Navi Mumbai and Mumbai, thus making it an even more attractive place to live. The surrounding areas of Navi Mumbai, specifically Ulwe and other places in the Raigad district, are also expected to show a boost in property prices. These places are known for their serene and natural surroundings and proximity to Mumbai. The sea-link project further reduces the gap by improving connectivity and increasing the property rates and economic activities in these areas
Conclusion
The MTHL is a proposed Sewri to Nhava Sheva Bridge that will help connect the island city of Mumbai to the mainland across Thane Creek . As a result, residential properties near MTHL will get access to improved connectivity, economic opportunities, and the bidding for property value appreciation.For residents of Piramal Aranya, the MTHL project means improved accessibility and connectivity between South Mumbai and Navi Mumbai. Hence, if one has to commute daily across the city, they can save more time on travel and also avoid the hassle of traffic congestion!
Disclaimer- This article is based on the information publicly available for general use as well as reference links mentioned herein. We do not claim any responsibility regarding the genuineness of the same. The information provided herein does not, and is not intended to, constitute legal advice; instead, it is for general informational purposes only. We expressly disclaim /disown any liability, which may arise due to any decision taken by any person/s basis the article hereof. Readers should obtain separate advice with respect to any particular information provided herein.